Velocifire TKL01 Mechanical Keyboard 87-Key Tenkeyless with Brown Switches LED Illuminated Backlit Anti-ghosting Keys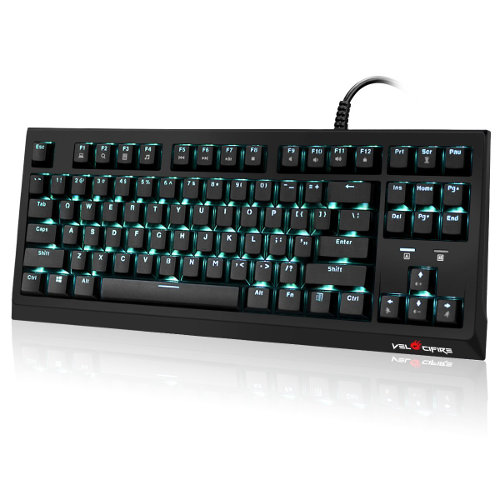 MUST HAVE - A mechanical keyboard is a must-have tool for anyone who spend many hours on typing every day. So Velocifire mechanical keyboards was designed for copywriter, programmer, typing teacher and editors. You will get better at typing speed and accuracy through Velocifire mechanical keyboards, as well spend less money.
DURABLE - If you spend most of your day typing, a mechanical keyboard can be a worthwhile upgrade over a cheaper, less comfortable keyboard. They're durable and meant to stand up against heavy use. The keys are rated for can last for about 50 million keystrokes or more, which is way above and beyond the standard duty expectation of a membrane keyboard. If you're the type of person who wants a good keyboard to stick with you for the long haul, or you notice you're hard on your membrane keyboards.
Office-Friendly - Never mind to annoying any neighborhood sitting around as mechanical brown switch. They provide a tactile feedback on key press, but they don't produce the clicky sound, which is suitable for typists who prefer a silent work environment.
TENKEY-LESS - A TKL keyboard is probably the best keyboard for a programmer. It provides a standard layout keyboard, without the numeric keys. With this design it can fit literally anywhere. If you've never used TKL or compact size keyboards, I recommend that you should give it a try, because you'll be amazed how much space you save, and it'll be much easier to reach for your mouse.
ANTI-GHOSTING - This is sometime used in place of Key Rollover, but the terminology is incorrect since ghosting is a different (and rare) issue. You will need to do more research to see what key rollover technology is being used. Ghosting is when two or more keys are pressed and a key that was not pressed registers instead.
Check it out