Easy and effective ways for programmers' websites to earn money
When you have work as a software developer, you will encounter many problems that you spend quite some time solving. For example, if you are looking to setup a Raspberry Pi web server to host your PHP application, you may take hours.
On the other hand, you may spend time in finding the parts needed to build a camera prototype that take pictures at the push of a button.
As I had said in why should programmers blog, blogging enables you to revisit your past solutions to solve current problems.
In addition, when you had written a good number of articles, the Internet will probably reward you with substantial viewership.
At this point in time, you may probably think of ways to earn some money to pay the running costs of your website.
So what are some easy and effective ways for programmers' websites to earn money? In case you are a programmer who owns a website, here are some easy and effective ways to earn money.
What do we mean by easy and effective ways to earn money?
Before we proceed, let us be clear on the characteristics of easy and effective ways to earn money.
First of all, easy and effective monetisation methods does not take up too much of our time. When we have time in our hands, we will then be able to focus more on writing articles.
In addition, these monetisation methods should not influence what we like to write about. For example, we don't have to write about how to start a blog with hosting companies that pays high referral fees.
Lastly, unless our website has high viewership (more than 1 million visits per month), easy monetisation methods will not allow us to quit our trusty, sometimes boring, day job. However, these monetization methods can help us with the server hosting costs.
Google Adsense

Since programmers most probably won't write about topics that are prohibited by Google Adsense, it is ideal for programmers' websites.
What is Google Adsense?
So what is Google Adsense?
On one hand, advertisers want to get web surfers' attention to their product or services offering. On the other, publishers like us have websites with some space to put up banners in exchange for money. Given these points, Google Adsense is a platform that serves as the middleman for advertisers and publishers to achieve their objectives.
Advertisers submit the advertisements to Google Adsense's ad repositories. Publishers include a piece of JavaScript code within their web page and Google Adsense will magically render advertisements from their ad repositories. Such advertisements are rendered based on visitors' geographical location and profiling.
Whenever a visitor sees or clicks on the advertisements, publishers get paid accordingly.
Why is Google Adsense ideal for programmers' websites?
Firstly, Google Adsense has one of the largest ad repositories across multiple geographical locations. Therefore, visitors will see advertisements that are put up by actual advertisers.
In addition, Google Adsense is able to provide advertisements with best relevancy to visitors, especially when visitors use Google search. Given that, there will be a higher chance that visitors check out the advertisements that appear which translate to earnings.
Lastly, Google Adsense has many types of ads to cater to different display styles. This allows publishers to better position advertisements within their webpages.
Best performing Google Adsense Ad units for programmers' websites
So what is the best performing Google Adsense for programmers' websites? Since programmers' websites usually feature technical topics, visitors are much focused on the article content. Therefore, native in-article ads tend to perform really well on programmers' websites.
What makes native in-article ads so great is that these ads are full-width to the container that they are in. In addition to that, native in-article use high-quality advertiser ad elements so they look great and provide a better user experience for your readers.
Other useful Google Adsense features
Apart from providing websites with monetisation opportunities, there are some Adsense features that can help us improve site experience.
Google Custom Search
When you build your website with several programming frameworks, Google Custom Search gives you an easy way to build a search page for your website.
You can choose to implement Google Custom Search with one of the programming framework that you had deployed. For example, if you use WordPress, you can choose to implement Google Custom Search as a WordPress page.
When you implement the free version of Google Custom Search, some ads will appear at the top of the search results. After you link Google Custom Search with your Adsense account, you will be eligible to earn some revenue from your search page.
All in all, Google Custom Search can give us a site-specific search engine that can help us earn some advertising fees.
Google Matched Content
Since Google index web pages within your website, they are able to give you a recommendation tool to promote your content to site visitors. This recommendation tool is Google Matched Content and is free for use.
In case you are wondering, Google Matched Content looks like this: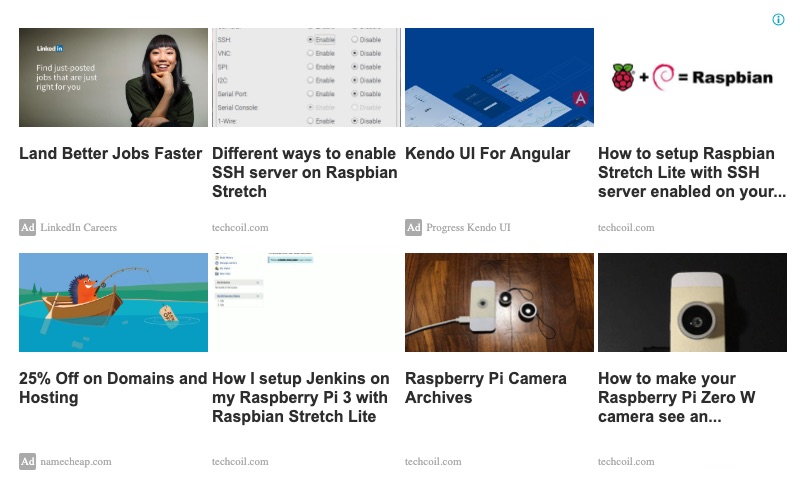 When your site is eligible, you will be able to locate "Matched Content" under the "Sites" menu in your Google Adsense dashboard: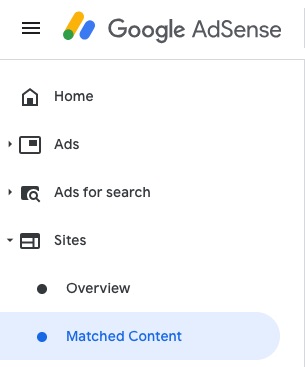 So how can you be eligible for Matched Content? According to this Quora answer from a Googler, Matched Content can be activated for all publishers who meet the following minimum thresholds:
1000 pages
1000 daily page visits
A unique image on most of the pages of their site
Although 1000 pages seemed like a big number, most of us should be able to achieve this page count if we include paginations, category and tag listings. When we constantly explore ideas and write them in our blog, we should be able to get the Google Matched Content feature at some point in time.
Amazon Associates program

When you write about products that you use for solving your problems, you can sign up for Amazon Associates program.
What is Amazon Associates program?
Amazon Associates is one of the first online affiliate marketing programs and was launched in 1996. When you sign up to be an Associate, you can create links to Amazon. Once your visitors click through those links and buy products from Amazon, you will earn referral fees.
Why is Amazon Associates program ideal for programmers' websites?
First of all, Amazon operates in many markets and sells a wide spectrum of products. When you mentioned a product in your blog posts, you will most probably be able to find it on Amazon.
In addition, whatever your visitors buy after they click on your associate links earns you referral fees. Therefore, as long as you refer your visitors to Amazon, you have a chance to earn some money.
Since ad blockers usually do not block affiliate links that are not generated by JavaScript, you get the chance to earn from visitors who dislike ads too.
Unlike ad clicks which can be deemed as invalid, visitors' purchases on Amazon are always genuine. Your referral fees are voided only when your visitors return their purchase.
Finally, it is very easy to create affiliate links with Amazon. Whenever you want to link to a product on Amazon, you simply browse the catalog on Amazon. While you are logged into your affiliate account, you can generate affiliate links from the controls at the top left corner: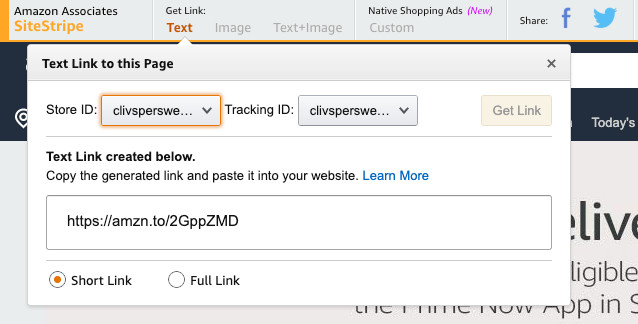 Given that, you can easily copy the link from the text field and create hyperlinks to Amazon. Whenever a visitor clicks on the hyperlink that you had created, her browser will direct her to the same page that you were viewing.
Best performing Amazon Associates product linking
Although Amazon Associates program provides multiple ways to create product linking, not all are effective for programmers' website.
So which are the best performing Amazon Associates product linking?
Since programmers are agnostic to ads, the best product linking are those that does not look like ads. For example, when I write about building a reverse proxy server with Raspberry Pi 3B+, I include the product links as part of the words that I write. Another way is to list product links explicitly as a list of recommendations like this:
Best performing Amazon Associates product recommendation types
So what is the best performing Amazon Associates product recommendation types?
Although it is easy to create product links, it is not easy to create product recommendations to perform. Indeed, much of the link performance depends on the type of article that you are writing about.
For example, if you are writing about how to detect keyboard presses with JavaScript, there is little chance that your reader is going to buy something.
In order for Amazon Associates product recommendation to work, your reader need to buy something to while reading your article to solve her problem. For example, if you write about how to build an entertainment system, you may want to recommend the types of hardware that the reader can buy.
All in all, the best performing Amazon Associates product recommendation types are those that can fit as solutions that your reader is looking for while reading your article.