UGREEN USB 3.0 Sharing Switch Selector with 4 USB Port for 2 Computers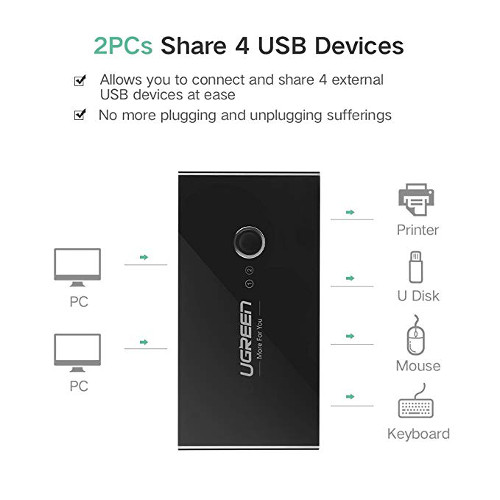 Need to easily switch ONE set of USB peripherals between two computers?
Have a look at UGREEN USB 3.0 Sharing Switch Selector with 4 USB Port for 2 Computers.
With this little device, you no longer have to plug and unplug USB devices while working with two different computers.
Description from Amazon:
This USB Switch 4 Port device allows up to 2 users to share 4 USB 3.0 peripheral devices, such as printer,scanner,mouse,keyboard or usb disk etc without the need to constantly swap cables or set up complicated network sharing software. It's a great for use at home if you have multiple PCs or Macs.
USB 3.0 Switch supports ultra-fast USB 3.0 data transfer rates of up to 5Gb/s (10 times faster than USB 2.0), to work flawlessly with high-bandwidth USB 3.0 devices, such as external hard disks, high resolution webcams, camcorders, video surveillance cameras, digital video cameras, multi-channel audio and more, and is backward compatible with USB 2.0 and USB 1.1 devices.
The USB sharing switch allows you combine with 4 USB 3.0 Ports to share multiple devices e.g. printers, scanners, etc. Bus powered with no external power supply required.
Button and LED design,you can easily switches between systems via push buttons with LED indicating the active computer.
STABLE Connection: USB 3.0 sharing switch with a separate micro usb female port for option power,which optimizing its compatibility with more devices, such as HDD,Digital Video Cameras, SSD etc. Important Note: Please use Standard 5V Adapter(Not Included, sold separately) for powering. Any charger with higher voltage output is NOT allowed and may affect the product performance.
Check it out