J3 Roving Eye
J3 Roving Eye presentation for Wireless Jam 2005.
Video taken by Dr Lee Leong, edited by Ng Wee Hua
Key Achievements
Splash Awards Wireless Jam 2005, Top Prize in IHL Enterprise Category
Splash Awards Wireless Jam 2005, Radix Most Outstanding Team Award
IT Project Show 2005, Best Project Prize for the Diploma in Internet Computing
Featured on the "Digital Life", The Straits Times, 19th April 2005
Note: IHL is an acronym for Institute of Higher Learning
"It is not just a car; it is a security concept that is capable of protecting your assets"
That was the tagline for our project. Our project which we named as the J3 Roving Eye is a survelliance system which companies can implement within their Wi-Fi infrastructures. Through their Wi-Fi infrastructures, Roving Eyes can be employed to monitor a company's premises.
"Roving Eyes" are movable cameras, which in our case, a model car which can be controlled from client interfaces running on desktops, laptops or handheld devices.
Through our surveillance system, video are being streamed from Roving Eyes to the client interfaces. Hence, security personnels can be shielded from potential dangers by using Roving Eyes to monitor their companies' premises. The system also provides for message chatting and audio conferencing between the client interfaces so that security personnel can better coordinate their monitoring activities.
In the event where a stranger is discovered, security personnels can also make audio annoucements through the Roving Eyes to warn the trepasser. To ease routine walks around premises, Roving Eyes can also be preprogrammed to move automatically.
Snapshots of the J3 Roving Eye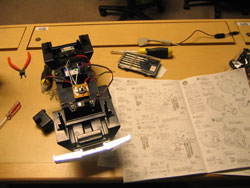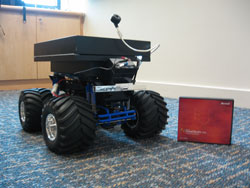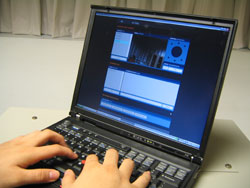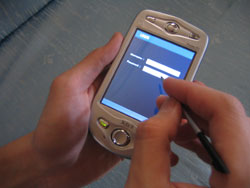 Project team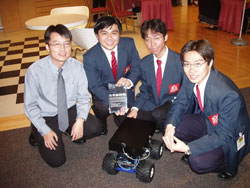 From left to right
Dr Lee Leong (Project supervisor)
Toh Teng Hui
Yeo Chai Heng
My Role
Built the model car.
Built engine module that listens to commands to drive the car.
Built pathing module that allows the car to be preprogrammed to move automatically.
Built a J2ME client application to control the car.
Presented our project for the Wireless Jam 2005 competition.
Presented our project for school's IT Project Show 2005.